Due to COVID-19, the APEGS office is closed and staff is working remotely until further notice. Our response time may be longer than usual. We appreciate your patience, and we apologize for the inconvenience.
Geoscientists Canada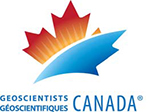 Jeff Parks, P. Geo., FGC takes office as President of Geoscientists Canada for 2019-2020

On June 15, 2019, at the 59th Meeting of the Board of Directors of Geoscientists Canada in Toronto, ON, Jeff Parks, P.Geo, FGC, took office as President for 2019-2020, after serving a year as President-Elect. Mr. Parks resides in Lewis Lake, NS, and is a Senior Environmental Geoscientist and GIS Specialist with GHD.
He has over 30 years of geoscience experience and is currently managing environmental services to extractive industries, a GIS analyst and a quality systems coordinator. He provides leadership and senior technical support in the fields of Environmental Science and Engineering.
During his tenure on the Geoscientists Canada Board of Directors, Mr. Parks serves as Chair of the Governance Committee and has chaired the Geoscientist-in-Training and the Professional Practice Task Forces.
In fulfilling his duties as President, together with colleagues on the Board of Directors, Mr. Parks will be focusing on continuing to build and promote Geoscientists Canada as a national/international forum for Canada's geoscience profession that fully serves the needs, and supports the responsibilities of, its constituent associations.
Also at the June 15, 2019 Geoscientists Canada Board of Directors meeting, Mr. Michael Parkhill, P. Geo., FGC from New Brunswick, was elected as the President Elect of Geoscientists Canada.
The geoscience profession, which encompasses many specialized practice disciplines, currently comprises over 14,000 licensed professionals (P.Geo's) and Geoscientists-in- Training registered with geoscience regulators across Canada.
With nine (9) constituent association members, Geoscientists Canada is the national organization of the provincial and territorial licensing bodies that regulate the practice of geoscience in Canada.
Geoscientists Canada's Mission is to support its constituent associations in their efforts to improve the effectiveness of regulation in Canada and achieve excellence in the geoscience profession.
Contact:
Andrea Waldie, P.Geo., FGC
CEO – Geoscientists Canada
200-4010 Regent Street, Burnaby, BC V5C 6N2
Ph: 604-412-4888
awaldie@geoscientistscanada.ca
www.geoscientistscanada.ca


---
Association of Professional Engineers and Geoscientists of Saskatchewan
Regulating the professions. Protecting the public.