New Public Appointee
August 10th, 2022
Introducing new Public Appointee, Richelle Andreas!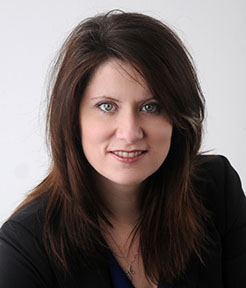 Richelle Andreas joined APEGS a month ago serving on the Audit and Risk Management Committee and the Investigation Committee. The role of public appointees is to represent the public in the self-regulation of the professions of engineering and geoscience by bringing an external viewpoint and transparency to the governance and regulation of the professions. They are appointed according to The Engineering and Geoscience Act by a Lieutenant Governor Order in Council upon recommendation of the minister responsible for the act.
What is your employment, background and personal interests?
I have almost 20 years of experience in the farm equipment manufacturing industry, and I am currently the chief executive officer of S3 Enterprises. I am the former Chair of Ag Manufacturers of Canada, and I have served in various capacities in industry and community associations. In my spare time, I enjoy chasing my children around the province with their sports as well as travelling, reading, and music.
Why is it important for a public appointee to be on council?
Governance is an important part of any association responsible for certifying the credentials of professionals. In the professions of engineering and geoscience, it is even more critical because the nature of the work of those professionals impacts the safety of the general public. The role of the public appointees is to contribute to the good governance of the association by providing perspective from outside the profession.
What do you hope to bring to the APEGS Council?
I take my role as a public appointee very seriously.  From my own experiences, I know that having an outsider's voice can add a whole new dynamic to a discussion. I am hopeful that my experiences with risk mitigation, systems, governance, accounting, human resources, continuous improvement, and change management will offer something of value to the association.
What has been your experience with APEGS so far?
In my month with APEGS, I was most struck by the level of professionalism and diligence demonstrated by every member of the staff and council. Based on what I observed through my onboarding and first meetings, the association has a strong vision for the future, an engaged team, and is building robust tools to navigate the future of the organization.